RIATA INN PRESIDIO
A Presidio, Texas hotel near the Ojinaga, Mexico border
Welcome to Riata Inn Presidio! Please make yourself at home in our clean and spacious rooms in the charming town of Presidio, Texas. We're conveniently located on US 67 just moments from the Ojinaga, Chihuahua, Mexico border, making this a perfect place to rest your head during a road trip. Hopefully, you'll have the chance to spend some time here and explore the amazing outdoor opportunities, delicious dining, and unique towns in the region.
No matter which direction you head, Riata Inn Presidio is one of the best hotels for travelers looking to explore the great outdoors of West Texas. We are minutes from amazing hiking trails at Big Bend Ranch State Park, and slightly further will bring you to Big Bend National Park and the vast hiking system it contains. Just under an hour away is the quirky town of Marfa for the perfect day trip from Presidio. Across the border, you'll find dramatic views from the Peguis Canyon overlook, and north of our property, you can soak in the soothing mineral-rich waters of Chinati Hot Springs. When you're ready to refuel, check out one of the many great local restaurants in Presidio or head across the border to Ojinaga and enjoy an authentic Mexican meal.
After all of this adventuring, you'll love coming home to our comfortable hotel rooms! We pride ourselves on the warm hospitality we extend to our guests, and we want you to enjoy your downtime at Riata Inn Presidio. Guests will love unwinding in our refreshing outdoor pool before tucking in for the night. Our cozy accommodations have been thoughtfully equipped with super comfortable beds, 40-inch TVs with cable and HBO, comforts of home like a mini-fridge and microwave, and free WiFi. Our property is pet-friendly, so bring your furry family members on vacation too!
Our friendly team is standing by to help you take advantage of the best hotel deals we have to offer, so book your Riata Inn Presidio stay today!
Clean and Comfortable Rooms
From the moment you arrive, you'll see why travelers rate us as one of the best places to stay near Big Bend Ranch State Park. Each hotel room is over 360 square feet, providing ample space to spread out and relax. Our air-conditioned accommodations offer plush beds and large TVs, with cable and HBO, for when you are ready to unwind.
ONE KING BED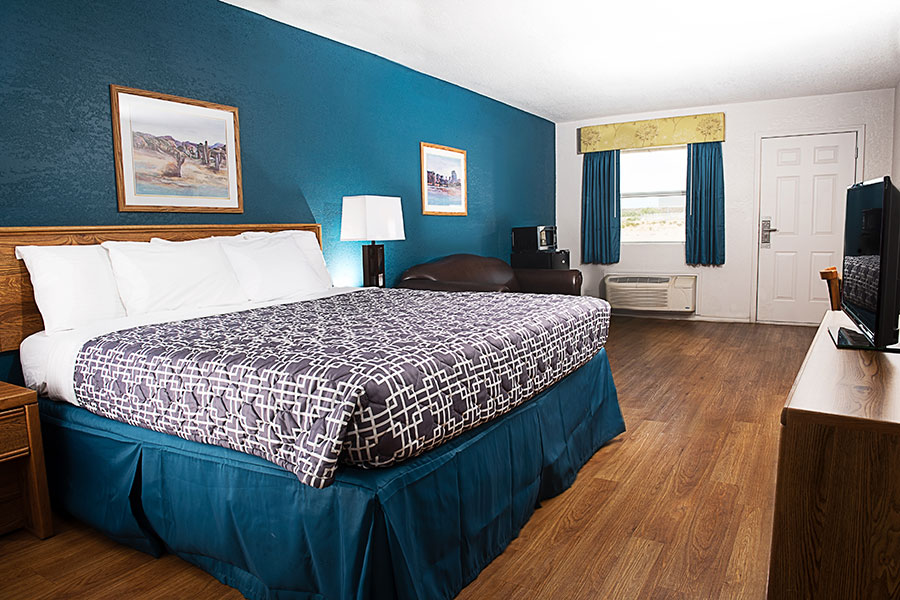 You'll love coming home to these comfortable accommodations each day! Enjoy relaxing on the leather sofa, which doubles as a sleeper sofa, or use the executive desk to get some work done. Each room is thoughtfully-appointed with a microwave, mini-fridge, and ironing amenities for your convenience.
TWO QUEEN BEDS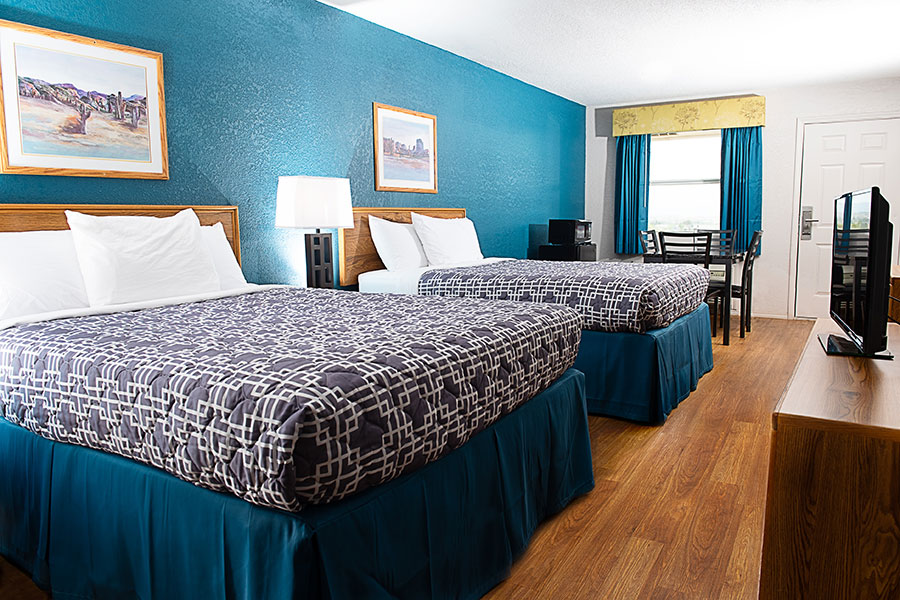 Book our sparkling clean 2 Queen Beds room for your next family vacation to Presidio! At 360 square feet, these spacious accommodations have ample room to relax, even with the two cozy queen beds. Take advantage of the activity table to play cards or catch up on emails at the executive desk. This layout can be reserved as smoking or non-smoking.